So.... I haven't updated in a while.
I've been a little busy with prepping/shopping for college and planning my birthday, and whatnot...
(Lame excuse? Yeah, I know. But that's all I got. haha)
But I'm back now! :D
Anyway, I can't say I've read much lately. Which sucks, because the the fact that I would have time to get some reading done was mainly the whole reason I was excited for summer! :(
Boo!
I did, however, *finally* read Paper Towns by John Green.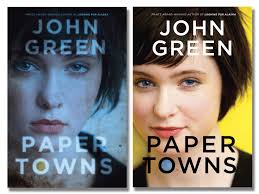 I absolutely LOVED the fact that they made two different covers! I have the blue one.
And is it just me, or does the Margo model totally look like Emily Browning? o.0
Hmm.....
Now I'm being really lazy right at the moment, so I might or might not do a (sucky) review over it later.
So many bloggers have read AND reviewed it already, anyway so I think my review would be a bit repetitive.
I will say though, that I really liked it and definitely recommend it.
And the same things go for all of John's books. If you haven't read them be sure to put them on your list! :)