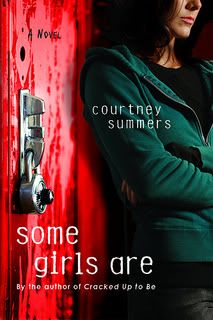 Climbing to the top of the social ladder is hard--falling from it is even harder. Regina Afton used to be a member of the
Fearsome Fivesome
, an all-girl clique both feared and revered by the students at Hallowell High... until vicious rumors about her and her best friend's boyfriend start going around. Now Regina's been "frozen out" and her ex-best friends are out for revenge. If Regina was guilty, it would be one thing, but the rumors are far from the terrifying truth and the bullying is getting more intense by the day. She takes solace in the company of Michael Hayden, a misfit with a tragic past who she herself used to bully. Friendship doesn't come easily for these onetime enemies, and as Regina works hard to make amends for her past, she realizes Michael could be
more
than just a friend... if threats from the
Fearsome Foursome
don't break them both first.
Well for starters, anyone who knows me or has read my
favorites post
, knows how much I absolutely loved
Cracked Up To Be
.
With that said, I just knew anything else Courtney wrote was going to be a must read.
I was a little weary at first to whether
Some Girls Are
would be as good as
Cracked Up To Be
, but now after reading, I can't believe the thought even crossed my mind.
Some Girls Are
pretty much blew my mind.
And that's because I love love LOVE
Cracked Up To Be
. A lot.
If
Cracked Up To Be
had a fangirl, it'd be me.
Heck, it
is
me.
But... somehow, I ended up loving
Some Girls Are
even more. Which I honestly didn't think was possible, but apparently, it is.
You see, Courtney has an amazing way of taking what would ordinarily be two girls we, or most of us, would hate (CUTB 's Oh So Perfect Parker & Evil Bitch Regina from SGA) and turns them into two of my favorite characters ever. And that's saying something.
There's nothing I like more than a strong character. Especially a strong
female
character. (
Which I definitely think we need more of, but that's another story...)
And that's exactly what I thought Regina was: Strong. Yeah, she was called out as being scared, a coward, and a number of other colorful words on several occasions, but she was tough. She always fought back.
And I loved that about her. I loved that no matter how bad it seemed and how much worse the taunting and bullying got, Regina always found a way to retaliate, refusing to let them win.
I've never been one to be a pushover so I definitely caught myself rooting for Regina every time. Sounds bad, I know, but read this and tell me you didn't do it at least once.
Besides Regina, I want to talk about (gush over) another favorite character: Michael.
Ugh. Courtney! I see that you have been called an Evil Genius several times already, but this honestly just proves it.
He is so... Sweet. And perfect. There are no words!
All I will say is this: If someone ever invents a machine that magically transforms fictional characters into real human beings (please someone invent this!), Michael is going in first! Seriously. I call dibs! :D
Now, I really wish I could have written a nice, non-fangirlish, well thought out, intellectual review, but I couldn't.
All you need to know is: If you enjoyed
Cracked Up To Be
HALF as much as I did, you will not be disappointed with this one! And if you haven't read
Cracked Up To Be,
DO IT NOW. And buy
Some Girls Are
while you're at it, because you'll want to read it right after.