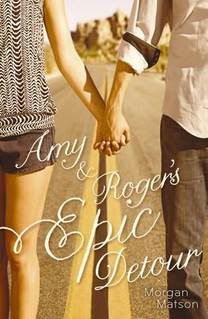 Amy & Roger's Epic Detour by Morgan Matson
Summary:
Amy Curry thinks her life sucks. Her mom decides to move from California to Connecticut to start anew--just in time for Amy's senior year. Her dad recently died in a car accident. So Amy embarks on a road trip to escape from it all, driving cross-country from the home she's always known toward her new life. Joining Amy on the road trip is Roger, the son of Amy's mother's old friend. Amy hasn't seen him in years, and she is less than thrilled to be driving across the country with a guy she barely knows. So she's surprised to find that she is developing a crush on him. At the same time, she's coming to terms with her father's death and how to put her own life back together after the accident. Told in traditional narrative as well as scraps from the road--diner napkins, motel receipts, postcards--this is the story of one girl's journey to find herself.
Review:
I'm a big fan of road trips, and it's one of the things on my looong list of things I have yet to do. So since it was unfortunately out of the question this summer, I figured what better way to experience one than through a really great book!
Amy & Roger's Epic Detour was definitely a great adventure, to say the least. It was filled with what one only hopes the actual road trip has in store. In this story, the destinations throughout the road trip are not only part of the journey, but the transformations in each of the characters are, as well. Both Amy & Roger have issues they're struggling with and with each place they visit, they find themselves coming to terms with their situation. I really enjoyed the different characters introduced throughout their detour, especially Bron. I would've liked to have seen more of her. The romance aspect was also cute and to me, it seemed only natural for Amy & Roger (or should I say Hilary & Edmund.. Ha) to grow as close as they did.
The visuals (which included: drawings, receipts, postcards, photos and scrapbook pages) were definitely one of my favorite things about this book. It was something different and I thought they all tied into the story real well.
(Loved the playlists, btw! There's some good music in this book, which is also a BIG plus! I'm kind of a music freak.)
And what I liked most of all was the fact that it wasn't a typical light book about a road trip. It had depth and real emotions.
With summer winding down, I'm definitely glad I chose this one as one of my last summer reads because with school starting up soon, I sadly, won't be reading as much. So if you haven't read Amy & Roger's Epic Detour, definitely do!
Morgan Matson is definitely is definitely an author to watch!