I've gotten a lot of books in the past two weeks but they were all delivered to my house, so these are the ones I have on hand right now. I'll have a much bigger post next week.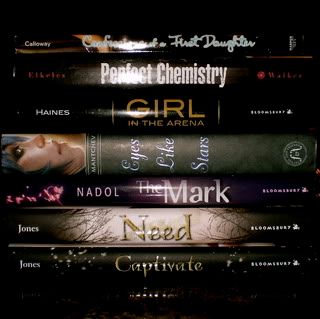 Sorry for the glares, by the way. I guess the flash was too bright..? :/
This one seems like a cute, short read and I just found out there's a sequel! I need that one now...
I know, I know. How have I not read an Elkeles book? I've been meaning to buy at least one for forever. Seriously. Leaving Paradise has been on my wish list since it had the old cover! But I decided to start off with this one.
There are a lot of comparisons between this one and the Hunger Games, so that's what initially made me pick it up. I like the cover too.
This one seems interesting and I especially loved Vania's (from
Reverie Media),
photos
for the book. So so pretty!
I've heard great things about this one. And the cover's cute.
I've been wanting these for a while but I've been putting off buying them because I don't like waiting for the next books. I'm SO impatient.
So that's it for me. At least, all that I can show you for now.
Leave a comment letting me know what you got! :)