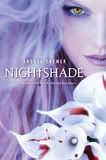 Calla Tor has always known her destiny: After graduating from the Mountain School, she'll be the mate of sexy alpha wolf Ren Laroche and fight with him, side by side, ruling their pack and guarding sacred sites for the Keepers. But when she violates her masters' laws by saving a beautiful human boy out for a hike, Calla begins to question her fate, her existence, and the very essence of the world she has known. By following her heart, she might lose everything--including her own life. Is forbidden love worth the ultimate sacrifice?
Nightshade will be released October 19, 2010.
This is one book I'm so excited to read!
I was lucky enough to have an extra ARC and since I love my followers, I decided to have a giveaway.
Unfortunately, I haven't had a chance to read it yet (Darn school! I tell you--it ruins everything!) but reviews such as
this one
and
this one
, give me the feeling I'm going to absolutely love it.
This time, this contest is open internationally. YAY! But
only
to followers!
Sorry, my blog followers are my favorite people.
Only the awesome people will get a chance at the awesome book. :)
The giveaway ends at 11:59pm (central time woot woot!) on September 19th.
The winner will be announced on Monday, September 20th.
*Note:
Old followers are the ones who've followed before this contest was posted. New = after.
I'll edit your entries in case of mistakes anyway, don't worry.