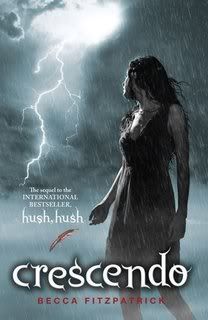 Nora should have known her life was far from perfect. Despite starting a relationship with her guardian angel, Patch (who, title aside, can be described as anything but angelic), and surviving an attempt on her life, things are not looking up. Patch is starting to pull away and Nora can't figure out if it's for her best interest or if his interest has shifted to her arch-enemy, Marcie Millar. Not to mention that Nora is haunted by images of her father and she becomes obsessed with finding out what really happened to him that night he left for Portland and never came home.
The further Nora delves into the mystery of her father's death, the more she comes to question if her Nephilim bloodline has something to do with it as well as why she seems to be in danger more than the average girl. Since Patch isn't answering her questions and seems to be standing in her way, she has to start finding the answers on her own. Relying too heavily on the fact that she has a guardian angel puts Nora at risk again and again. But can she really count on Patch or is he hiding secrets darker than she can even imagine?
I enjoyed Hush, Hush last year and was excited to hear about the sequel. I heard from early reviews that Crescendo was even better, but I had no idea how much better.
BUT HOLY CRAP. IT WAS SO GOOD.
I don't really want to get into the premise of this book because I think so much that can be said about it can be borderline spoilerish. And I hate spoilers. But I will say that while Hush, Hush had a lot of suspense and action, I felt that Crescendo had way more drama and mystery. Right from the start Becca will hook you with a pretty awesome prologue that will keep you guessing throughout the entire book. And it isn't until the conclusion that you'll start putting the pieces together.
As for the Nora/Patch relationship in this book, I was constantly wanting to slap Nora AND Patch upside their heads (In a good way, of course). It was to the point where one chapter I was totally on Nora's side wondering why the heck boys suck oh, so much and the next, I was completely Team Patch wanting Nora to stop being so crazy and tell Patch how she felt. I guess it's clear this book made me slightly bipolar.
I also loved that the ending and the unfolding of all the events took me by surprise. I didn't expect what happened to... well, happen. I predicted some of Hush, Hush so the fact that I didn't foresee Crescendo was refreshing.
Major highlights:
-I loved the flashbacks and dream sequences, especially the prologue. I think flashbacks are definitely Becca's specialty.
-I also loved the ending even though it was kind of a cliffhanger ("kind of" being used loosely. Very loosely.) Tempest is definitely going to be the book that tests my patience (or should I say, impatience).
Overall, Crescendo was an excellent installment to a great series. Since it was even better than Hush, Hush, I can only imagine what Becca has in store for us in the next (and final?) book. It's going to be great, I know it.
Note: I know Crescendo is just bound to get comparisons to New Moon. We all saw it happen with Twilight, and with Crescendo's description about Patch suddenly "pulling away" and keeping his distance (not a spoiler, it says so in the summary), I can certainly understand the similarities, but they are not the same. Becca has her own take on "breaking up", much different than Stephenie Meyer's Bella and Edward split. Just wanted to throw that out there, because in a few weeks, I sense we're going to be seeing a lot of that.
I know! There is no 4.75 rating, but I felt it was better than 4.5, yet the ending left me hanging! I am such a cheater.
Crescendo will be released October 19, 2010 and until then, I will be anxiously awaiting my finished copy from amazon. I've had it pre-ordered since amazon first listed it, so this is rather exciting for me!
Many thanks to Barnes and Noble for the ARC.