I got some books in the mail this week, but since I don't have most of 'em on hand, I'm going to show you what I bought/got signed at the Texas Book Festival up in Austin, Texas on Saturday.
First of all, can I just say how incredibly excited I was for this festival! I've been to a signing or two, but never an event like this one. Then, to top it off, the authors attending were all SO AMAZING. Really.
But of course since I was oh, so excited for this, it didn't go exactly as planned. Meaning, I got sick to the point of nearly vomiting
and
I forgot my camera. Which means I have no pictures. SHAME I FEEL IT U GUYZ! :(
First off, I met Andrea Cremer.
Andrea is the author of the ~FANTABULOUS~
Nightshade
(out this Tuesday!) and is so so SO sweet. I was really bummed I didn't get to talk with her more (because a few hours before arriving at the signing tent is when I got sick. Wahhh), but I knew I'd never forgive myself if I didn't at least go visit her. There's so much I wanted to discuss like: the prequel, Ren, Shay's webisodes, Ren, how excited she is for Nightshade's release, and of course, Ren. Can you tell I'm Team Ren? I finally made up my mind. :D Anyway, I highly suggest picking up a copy of Nightshade on Tuesday because lemme tell you, this book is made of AWESOME. And I know it's going to be a NYT Bestseller. I CAN FEEL IT.
The lovely duo, Kami Garcia and Margaret Stohl, the NYT best-selling authors of Beautiful Creatures and Beautiful Darkness, aka the first two books in The Caster Chronicles. They were so awesome and even gave me some extra swag to give away to you guys! So great. I can't wait to start Beautiful Darkness, as I've heard awesome things about it. You can see my review for Beautiful Creatures
here
.
And lastly, I got to meet....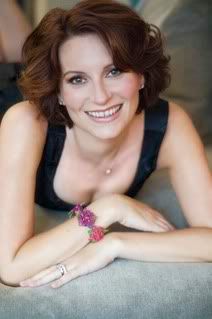 If you don't know already, I LOVE Meg Cabot. She's one of my absolute favorite authors and I couldn't believe I was finally going to meet her. She was practically the only author I got to see speak and to the people who are curious--she is just as funny as she seems (if not more so), trust me. Since I'm a huge fan, I wanted to let her know just how much I love her work. So naturally, the first (and only) words that pop out of my mouth are:
Yep, that's me for ya! But, whatever.
Meg didn't seem to mind at all that I was checking out and drooling over her shoes. She even agreed with me and explained she loved having a reason to wear them (they were leopard print platform heels. Ha!).
Overall, I had a fantastic time. Even though I was pretty sick and hot and sweaty (gross!), meeting so many amazing people was entirely worth it.
Without further ado, my signed books and assorted swag...
-Zombies vs. Unicorns (purchased @ festival) signed by Meg Cabot
-Avalon High (brought from home) signed
-Nightshade (Woo! Finished copy! Purchased @ festival) signed
-Nightshade ARC (brought from home, obviously) signed
-Beautiful Darkness (brought from home) signed
-Beautiful Creatures (again, from home) signed
There were so many other books I wanted to get, but alas, I am a poor college student.
And there are new releases that need to be bought next week as well. Can you tell I have a problem? Hah
If you'd like a little Caster Chronicles swag pack, leave a comment (telling me you'd like one) and I'll choose a winner randomly on Monday.
Hope you all had a great week full of great books! Let me know what you got!