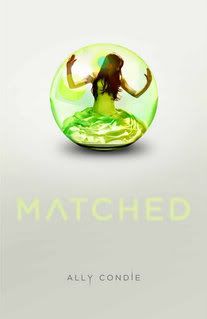 Summary:
In the Society, Officials decide. Who you love. Where you work. When you die.

Cassia has always trusted their choices. It's barely any price to pay for a long life, the perfect job, the ideal mate. So when her best friend appears on the Matching screen, Cassia knows with complete certainty that he is the one . . . until she sees another face flash for an instant before the screen fades to black. Now Cassia is faced with impossible choices: between Xander and Ky, between the only life she's known and a path no one else has ever dared follow—between perfection and passion.
I was holding off reading this but I realized, since not everyone has an ARC, it'd be a waste that I didn't take advantage of the opportunity, especially since I had the whole weekend off and was stuck at school. Needless to say, I'm glad I did.
Matched has had quite some hype and to be honest, I was a little hesitant at first to whether or not the book would live up to my expectations. Well, I can say now that all the talk is totally deserving.
In many reviews so far, Ally Condie's writing is being praised due to her excellent world-building skills, and I most certainly agree with that. The descriptions of Cassia's world and The Society, not only made me feel like I was in the story myself, but also made me feel the emotions the characters felt as well. I felt Cassia's confusion, fear, wonder and above all, anger. The fact that the Officials had so much control over everyone and everything made me slightly scared and as unrealistic as it may seem at first, I can't help but wonder if the future could ever be as similar as Condie's (I sure hope not!).
While I thought the characters were well written, I felt there is still room for more development. Cassia's grandfather is the major character that stood out to me the most. Even though he wasn't physically around throughout the book's entirety, his presence was always there and played a pivotal role in Cassia's way of thinking.
As far as the romance goes, I've seen others say they were torn between the two boys; they thought both would have equally been suited for Cassia. I disagree. I didn't necessarily dislike Xander, because I did like him. He helped both Cassia and Ky in crucial ways, but to me, he was just too perfect and kind of... bland. But I may just be biased because I very much preferred Ky and loved his outlook on the life laid out for them. Above all, I loved the unconventional way Cassia and Ky's relationship progresses. Granted, this whole story is unconventional, but you get my point. While the romance is very clean and tame, it doesn't make it any less intense.
I do wish to know more about how The Society came to be and how it all got started, etc., etc., but since this is the first in a trilogy, I'm thinking it's going to be covered in future books.
Overall: I loved this book and I can't wait to see what's next in book 2!
Definitely a must-read of 2010.
Matched will be released November 30, 2010. It'll make the perfect after Thanksgiving read when we're all suffering from food comas and can't do much, other than read. Or maybe that's just me...