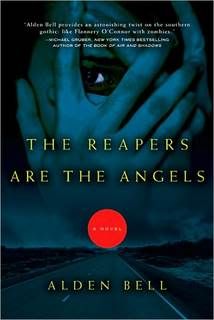 The Reapers Are The Angels by Alden Bell
Zombies have infested a fallen America. A young girl named Temple is on the run. Haunted by her past and pursued by a killer, Temple is surrounded by death and danger, hoping to be set free.
For twenty-five years, civilization has survived in meager enclaves, guarded against a plague of the dead. Temple wanders this blighted landscape, keeping to herself and keeping her demons inside her heart. She can't remember a time before the zombies, but she does remember an old man who took her in and the younger brother she cared for until the tragedy that set her on a personal journey toward redemption. Moving back and forth between the insulated remnants of society and the brutal frontier beyond, Temple must decide where ultimately to make a home and find the salvation she seeks.
This book's premise grabbed my attention right from the start. I'm a big horror movie fan and of course, love zombie movies. And even though I wasn't too crazy about Carrie Ryan's series, I decided to give another zombie book a try.
Despite the fact that the main character is a sixteen year old girl, I just want to point out, this novel's content is definitely adult.
I really enjoyed reading it but it took me a long time to finish. Not because it was bad or boring, but because I'm the type of person that has to be in the mood for a book while reading it. This one took me quite a while, but come this month, I finally finished (which is fitting I guess).
Beneath all the zombies though, this is a story about a girl who is dealing with life the only way she feels she can after losing people close to her (she has issues staying in one place for a certain amount of time, growing close to people, etc).
Major highlights:
-I really loved the author's writing. I'm not a big fan of third person narrative, but this book was an exception and there were many quotes I liked.
Overall, it wasn't my favorite read, but I am glad I read it. I think my enjoyment of this novel was most likely due to the fact that I wasn't in the primary targeted audience. If you're a zombie fan and looking for a post-apocalyptic read, you should try this one. If you're looking for a horror type zombie book, this might not be the right one for you.
Rating: 3 1/2 stars
The Reapers Are The Angels is in stores right now. Pick up a copy if you're interested!
Review copy received from publisher. Thanks again, I appreciate it!