Spotlight Tuesday is a way to shed light on a book or author that you feel deserves a little attention.
This week's spotlight will shine on...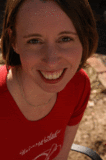 Tara Altebrando is the author of
The Pursuit of Happiness
and
What Happens Here
, which are both spectacular novels. Reminiscent of Sarah Dessen, Tara's books touch base on issues including family, friends, grief, love and life.
These are the real five stages of grief: agitation, intoxication, experimentation, resignation, and reinvigoration.
Betsy knows that her summer job at a colonial village is going to ruin whatever slim chance she has of ever being popular. To make matters worse, Liza Henske, only the biggest freak from school - piercings, tattoos, you name it - works at the village, too. But when Betsy's mother dies, playing farm girl starts to feel like a great escape...from her shattered family, from the boyfriend who dumps her, from the f
riend group that goes poof.
Fo
rtunately, Liza turns out not to be such a freak after all. And James - a lanky surfer who works at the village - has started carving Betsy things out of wood. Being with him is the only thing that makes her feel normal these days. That, and cutting images out of black paper like colonial silhouette artists did, which she knows must seem strange, but life seems very black and white lately... except for things with James, which are a million shades of gray.
We were going to see the world together, Lindsay and I. We were going to eat it up, whole. But it didn't happen that way. It didn't happen that way at all...
When Chloe's parents decide to take her to Europe the summer before senior year of high school, she's ecstatic...she only wishes her best friend, Lindsay, could come too. Living in Las Vegas, they have long imagined the world through the casinos inspired by great cities and have vowed to travel the globe together someday. Unfortunately, Lindsay's parents won't agree to send her along.
So Chloe goes to Europe and sends postcards to Lindsay every day. But when she comes home, she must cope with shocking news that rips her family - and Lindsay's - apart. And as she tries to uncover the truth about what happened, Chloe soon begins to feel that Lindsay's brother, Noah, is the one person alive for whom she'd go to the ends of the earth....
Like I said, if you enjoy Sarah Dessen or even Deb Caletti and Elizabeth Scott, I highly recommend giving these a shot! Since I love both of these books, I was very much excited to find out that Tara has an upcoming release titled
Dreamland Social Club
, out in May 2011.
And I will most definitely be picking that one up, come next year!