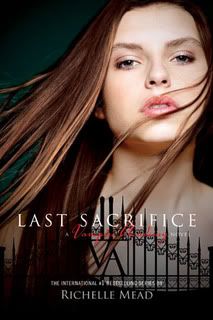 Murder. Love. Jealousy. And the ultimate sacrifice. Now, with Rose on trial for her life and Lissa first in line for the Royal Throne, nothing will ever be the same between them.
I really wish we had more of a summary, but regardless, I cannot wait for this book! If you didn't already see my sidebar, this is my most anticipated read for this year. I was a little late coming into the series, but I'm not entirely disappointed about that. The wait for
Last Sacrifice
has been driving me crazy, I can only imagine how I'd feel if I had to wait for each book. Not fun.
Last Sacrifice
will be released December 7, 2010 and I've had it
pre-ordered
since this past summer. This will be the first book I read during Christmas vacation and I for one, can't wait to be reunited with Dimitri! ;)