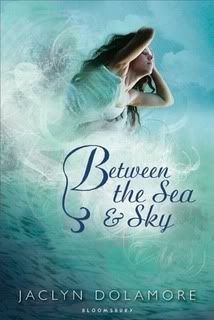 For as long as Esmerine can remember, she has longed to join her sister as a siren, the highest calling a mermaid can have. But when her sister runs away to the mainland, reportedly to elope with a human, Esmerine is sent to retrieve her.
Using magic to transform her tail into legs, she makes her way unsteadily through the streets of New Sweeling. There, she will come upon a friend she hasn't seen since childhood - Alandare, a boy, now a man, who belongs to a winged race of people. Together, Esmerine and Alandare put aside their differences to find her sister, and in the process discover a love that cannot be bound by land, sea, or air.
Ohmygosh. If you know me by now, you know I tend to love a good, pretty cover. It isn't often however, that I come across one that strikes me as something I MUST HAVE THIS SECOND. Seriously. When I saw this book's pretty face and then read the synopsis, I pre-ordered it. Just like that! I haven't read many mermaid books (or um, any) so I am looking forward to this one that much more--it sounds so great! I must say, the only problem I have with it is it's release date (June 7, 2011). I'm such an impatient person--next summer seems like forever away! But judging the cover, it looks to me like it'll be worth it.
So that's the book I'm longing for, what's your pick this week?