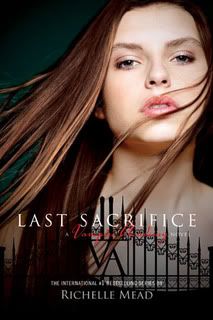 I'm not posting the summary due to spoilers.
Obviously, I can't fully review this book due to all the spoilers I'd let out (accidentally, of course). But since this was my most anticipated book of 2010 and I'm pretty sure I annoyed the hell out of everybody on twitter with my psycho Last Sacrifice-related tweets, I felt inclined to share my thoughts.
All I can bring myself to say is: What a great ending to one of my favorite series! Seriously. I think ending a series is a super hard thing to do because not only do you gotta tie up the storyline, but Richelle also has to deal with very super crazed fans that insist on getting their way in the whole Dimitri-Rose-Adrian triangle. Not an easy thing!
And to be honest, I've been more disappointed with series endings than pleased. (Lookin' at you SMeyer!!!) So even though I was super excited to read this book, I was also a little nervous.
I didn't think it was possible to neatly wrap up an ending with a big, shiny bow, but of course, leave the impossible to Richelle Mead. All I can say is I should have had more faith in Richelle because she hadn't disappointed me yet. And she sure doesn't with this ending!
To those that love the series as much as I do and were squealing with me all the way up to December 7th, I can't wait to hear what you think of it! Let me know.
For those who haven't read the series, but are thinking about it--DO IT. I can now officially say that it IS one of the best series out there. And when/if you do decide to read it, you're always welcome to come here and squee discuss it with me.
Because for me, it isn't entirely over. I was sad to finish reading Rose's story because she's one of my absolute favorite characters out there. I'll definitely miss her, but I know if there were to be another book there'd have to be more suffering and well, I'm more than sure she's suffered enough. Thankfully, the spin-off series Bloodlines comes out next summer and of course, I've already pre-ordered! ;)
I. CAN'T. WAIT. !!!
Rating: ♥♥♥♥♥
Briana