Hey guys! Hope you're doin' swell and the new year's treating you well so far. (Hehe I feel like rhyming, ok?) Anyway...
Since there seems to be a ton of 2011 challenges out there, I decided to tell you about the ones I'll be participating in this year. (Hopefully you will too!)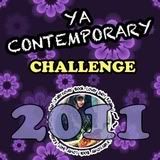 Awesome fellow blogger Reggie from
Undercover Book Lover
is hosting the super great
2011 YA Contemporary Challenge
and invited me to join. Since YA Contemporary is a favorite of mine, I thought this challenge would be quite doable and pretty easy. (Reading all the books I've been looking forward to = Challenge? Sign me up!)
The rules are pretty simple and the goal is to read
at least
13 YA Contemp novels this year. (For more details, visit the
Challenge page
.)
-What Happened to Goodbye by Sarah Dessen
-So Much Closer by Susane Colasanti
-Between Here and Forever by Elizabeth Scott
-The Day Before by Lisa Schroeder
-Love Story by Jennifer Echols
-Chain Reaction by Simone Elkeles
-Will Work for Prom Dress by Aimee Ferris
-Sometimes It Happens by Lauren Barnholdt
-Jenna and Jonah's Fauxmance by Emily Franklin & Brendan Halpin
-Ten Things We Did (and Probably Shouldn't Have) by Sarah Mlynowski
-Dreamland Social Club by Tara Altenrando
-Playing Hurt by Holly Schindler
-The Summer of Firsts and Lasts by Terra Elan McVoy
-Forever Summer by Alyson Noel
-Invincible Summer by Hannah Moskowitz
I don't wanna brag, but isn't that list AMAZING?! It is.
So head over to Reggie's blog and sign up!
Apart from that, I've also decided to make a personal goal and challenge myself to read at least 75 books this year. To some, I know that doesn't seem like a lot, but for a college student who soon may or may not be transferring to a school about 1,000 miles away from home? Well, let's pray I can get some reading done.
Are there any challenges you guys are doing? Anything you want to recommend? Want to shoot me some motivational advice? I'd love to hear!