In My Mailbox is hosted by the super awesome Kristi from The Story Siren.
(Um, please excuse my makeshift background... I like that blanket ahaha)
What I received in the past two weeks...
Delirium by Lauren Oliver - Favorite! And I went to Lauren's Austin signing last week- SO great.
How I Live Now by Meg Rosoff - Sick of hearing second-hand of how great this book is, so I decided to get on the ball and find out for myself. ;)
The Near Witch by Victoria Schwab - Squee! SO excited for this one! The people who've read it so far have said it was amazing, so I'm that much more excited to read it.
Bumped by Megan Mccafferty - I'm a huuuge
Marcus Flutie
Jessica Darling fan and I can't wait to delve into Megan's work outside of JD's world. It sounds great.
From Bad to Cursed by Katie Alender - I loooved Bad Girls Don't Die! It was one of my favorites last year and I CANNOT wait to see what happens in this one!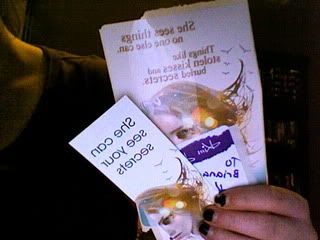 Kim Harrington is sending swag to those who pre-order Clarity. Definitely check it out and pre-order- it's going to be great!
Okay. I'll be honest as to why I haven't done an IMM in ages. After hearing all about how much it bothered people and how to them, it was a just a weekly chance for every blogger to "brag", it struck a nerve in me. I realized that I don't want to be looked at as someone that "shows off" or anything of the like, so I stopped. For a while.
I've been thinking lately about why I initially started participating in In My Mailbox and why I liked it so much. My answer: I don't like IMM- I
love
it. It does so many things for me; not only does it help me keep track of what books are coming out soon, but it also introduces me to others that I would not have heard about otherwise. Another reason: this past holiday season with the horrible weather, a lot of my book orders were delayed. And I'm sure every book blogger understands how I get when I don't get my books on time- it makes me anxious and paranoid. I don't know if my order was simply delayed, lost or even stolen (yes, I'm serious about that last one; it's happened to me before). So when IMM Sunday rolls around and I see other Texas (or near-to-me) bloggers exclaim that they *finally* received their order, it makes me relax and I know to be expecting mine soon. It may sound silly, but that little bit helps my sanity more than you know. I've got enough to deal with as it is.
The biggest, most important reason I love IMM:
Anyone heard of the "What's in my purse?" feature/"tag" from youtube? (ex.
1
,
2
,
3
) In my ad class we learned that this feature alone has helped SO many brands. From cosmetics to phones, gadgets, wallets- you name it! And now many of the videos are even purposefully made in order to promote certain products. That's kind of what IMM is to me: Actively helping promote books (other than writing up a review for it, of course) in a way that marketing people simply can't, no matter how great their marketing/publicity campaign is. Because it can only go so far. Bloggers on the other hand, cover what the pubs can't and even give it exposure to others outside the target audience. And that goes to show that word of mouth alone, really does do all kinds of wonders.
So anyway, I
will
continue to participate in In My Mailbox when I can because I enjoy doing it. To those that dislike it: ignore it. To those that love it as much as me: leave a comment & a link to your IMM and I'll get back to ya asap! :)
P.S. If you read ALL of that, I kind of love you.