***Beware of maybe/minor-spoilers!
If you haven't read Hex Hall, you might not want to read this. I do my best to make everything spoiler-free but since this is a sequel, I'm warning you just in case.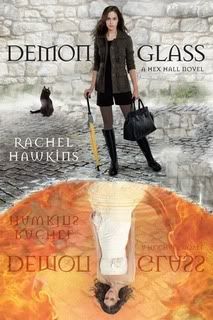 Sophie Mercer thought she was a witch.

That was the whole reason she was sent to Hex Hall, a reform school for delinquent Prodigium (aka witches, shapeshifters, and fairies). But that was before she discovered the family secret, and that her hot crush, Archer Cross, is an agent for The Eye, a group bent on wiping Prodigium off the face of the earth.

Turns out, Sophie's a demon, one of only two in the world—the other being her father. What's worse, she has powers that threaten the lives of everyone she loves. Which is precisely why Sophie decides she must go to London for the Removal, a dangerous procedure that will destroy her powers.

But once Sophie arrives she makes a shocking discovery. Her new friends? They're demons too. Meaning someone is raising them in secret with creepy plans to use their powers, and probably not for good. Meanwhile, The Eye is set on hunting Sophie down, and they're using Archer to do it. But it's not like she has feelings for him anymore. Does she?
To be honest, I don't really know where to begin or how to describe the awesomeness that is Rachel Hawkins. Hex Hall was no doubt, one of my favorite reads of 2010 and I could not wait to get my hands on this book.
I must say, what I loved most about Hex Hall was that there was never a dull moment. The entire book was full of action, humor, a little mystery, and of course, all the spooky supernatural drama. And the same can most certainly be said for Demonglass.
In this installment, we are reunited with Sophie, Jenna and yes, even Archer (HELLZ YES, I know! (Can you tell I'm Team Archer?)). We are also introduced to new characters--such as Sophie's Dad (as well as the rest of the council), and we also get to know other characters better like Cal, the quiet hunky healer on campus--all due to Sophie's summer vacation in London, where she plans on getting the removal. But of course, things don't always go as planned and everyone--including Sophie, is in for a few surprises.
If you loved Hex Hall or are new to this series, definitely check this one out! Rachel Hawkins is a genius at sarcasm, quick wit and smart-ass comments, and I'm not going to deny that I would very much like to steal that part of her brain. If you are a new reader by the way, lucky you! Most of us had to wait for this book after HH's super-crazy ending. Not fun. (I'm impatient, if you haven't noticed already...) OH! And speaking of super-crazy endings, HH's ending has NOTHIN' on this one, lemme tell you... I may have died a little as I turned the last page and realized it was the last page. The wait for book 3 is going to be a long one. Here's to hoping the anticipation doesn't kill me!
Demonglass is officially in stores now and if you weren't the first in line to buy it today, you are seriously missing out.
Ok, so since I am SUPER FREAKIN' EXCITED for this book's release (you all should know how I get when I'm excited), I've decided to have a Demonglass giveaway. Because it just totally deserves to be given as a prize. Want it? Here are the rules to enter:
-Must be 13 years or older
-U.S. residents only this time around (Super sorry, but I'm kind of a poor college student)
-Please
fill out the form correctly
Contest ends 3/15 at 11:59 pm