Waiting on Wednesday is hosted by Jill from Breaking the Spine.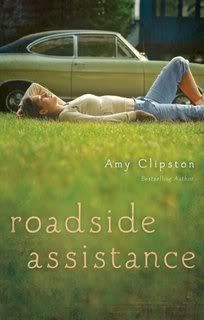 A very bumpy ride. Emily Curtis is used to dealing with her problems while under the hood of an old Chevy, but when her mom dies, Emily's world seems shaken beyond repair. Driven from home by hospital bills they can't pay, Emily and her dad move in with his wealthy sister, who intends to make her niece more feminine---in other words, just like Whitney, Emily's perfect cousin. But when Emily hears the engine of a 1970 Dodge Challenger, and sees the cute gearhead, Zander, next door, things seem to be looking up. But even working alongside Zander can't completely fix the hole in Emily's life. Ever since her mom died, Emily hasn't been able to pray, and no one---not even Zander---seems to understand. But sometimes the help you need can come from the person you least expect.
I love a good contemporary novel, and this book definitely seems to have all the right elements that make up a great one. Plus, it has a nice cover. Don't you just want to go and lay out in the grass after looking at it? I know I do.
Roadside Assistance is set to release April 12, 2011. And I will most definitely be picking up a copy!