(... Did that not totally sound like opener from an R.L. Stine made-for-tv movie?? I've clearly been watching too many Goosebumps episodes!)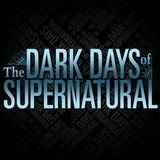 Like most book-loving people, I love attending book events, festivals, author signings, etc. So for all you who feel the same-- get ready because Harperteen's Dark Days of Supernatural Summer Tour is almost here!
What is The Dark Days of Summer Tour?
The Dark Days Tour is made up of Harperteen's hottest authors, who all have books releasing soon and will be doing a 5-city book tour together in celebration of their book's release.
Who will be at The Dark Days of Summer Tour?
Best-selling authors such as Ellen Schreiber and Aprilynne Pike will be at select cities along with debut authors including Veronica Roth, Josephine Angelini, Tara Hudson and Amy Plum. (You can check out the full calendar here.)
And don't forget about the book lovin' peeps like you and me, of course! ;)
Where will The Dark Days of Summer Tour stops be?
The 5 stops include Illinois, Oregon, Texas, Arizona and Michigan. Again, you can check the calendar for the exact city and location.
Excited yet?
I know I am! For those of you going, I can't wait to hear all about your experience (if you blog about it, which you should!) and if any of you will be attending the Austin stop, let me know! I'm dying to meet bloggers, especially us Texans since there are so many of us!
And for those who can't make it, FEAR NOT! Over the next month up until the tour I will be featuring/reviewing each of the debuting titles (Divergent, Die For Me, Starcrossed and Hereafter) and concluding with my own wrap-up post of the Austin stop, in which I may or may not be having a giveaway... :)
So stay tuned!
I look forward to seeing you all either on the blog or in Austin, June 9th
.