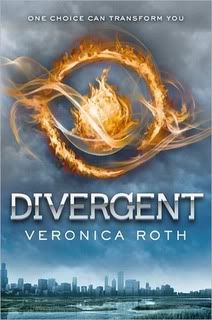 In Beatrice Prior's dystopian Chicago, society is divided into five factions, each dedicated to the cultivation of a particular virtue—Candor (the honest), Abnegation (the selfless), Dauntless (the brave), Amity (the peaceful), and Erudite (the intelligent). On an appointed day of every year, all sixteen-year-olds must select the faction to which they will devote the rest of their lives. For Beatrice, the decision is between staying with her family and being who she really is—she can't have both. So she makes a choice that surprises everyone, including herself.
During the highly competitive initiation that follows, Beatrice renames herself Tris and struggles to determine who her friends really are—and where, exactly, a romance with a sometimes fascinating, sometimes infuriating boy fits into the life she's chosen. But Tris also has a secret, one she's kept hidden from everyone because she's been warned it can mean death. And as she discovers a growing conflict that threatens to unravel her seemingly perfect society, she also learns that her secret might help her save those she loves . . . or it might destroy her.
Up to this point, I've never really declared myself a dystopian fan. I guess the whole oh-so-perfect-world-it's-actually-oh-so-horrible isn't something I think of myself
"enjoying"
because there's always a large part of me that believes some day, somehow, the world could really turn into that. But apparently I do enjoy it. With books like
The
Hunger Games
,
Uglies
,
Matched
, and of course,
Delirium
(hello, favorite book ever), it shouldn't have taken me this long to figure out that this has in fact, turned into one of my favorite genres. And
Divergent
is an amazing addition to it. Honestly, if I didn't know better, I would have never guessed
Divergent
was Veronica Roth's debut.
Like most YA lovers, this was one of my most anticipated books of 2011 and it sure has the buzz to prove it. But unlike most hyped up books, it doesn't let down; if anything, I'd even go as far to say that it exceeded my expectations.
With that said, do I think it's fair comparing it to
The Hunger Games
? Not necessarily, no, but I do believe fans of
The Hunger Games
should give it a try. It's easily one of the best dystopians yet and a definite stand-out among what seems to be the latest trend in YA.
Veronica Roth effortlessly masters the most dynamic parts of a story with good characters (Tris is awesome, strong and smart and Four is... *sa-woon*), excellent world-building (these factions are serious business, you guys!), nonstop action (this is initiation like you've never seen before) and perfect pacing (though I did complain when it ended ;)). Most of all, I loved that how despite most futuristic worlds written today are obviously corrupt to us, the reader,
Divergent
is different. This world's creation of factions is actually understandable--it makes sense, where as
mandatory plastic surgery (
Uglies
), the eradication of love (and heck, every other emotion it seems) (
Delirium
), and televised killings (
The Hunger Games
) all scream UH, HELLOO SOMETHING'S WRONG HERE and make me wonder how anyone in the world could honestly believe any of these will improve their lives for the better. But this idea is pretty solid, which is a nice spin and makes the story unique.
That said, filled with action, mystery and some romance,
Divergent
is a story for everyone to love.
It will be in stores May 3, 2011 and I
highly
suggest picking up a copy. Because if there's one book to read this year, it's this one-- hands down, my favorite 2011 debut novel yet.