Waiting on Wednesday is hosted by Jill from Breaking the Spine.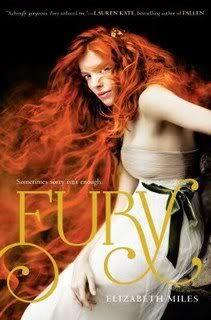 In book one of the Fury trilogy, Emily Winters and Chase Singer discover that a little guilt isn't the only consequence of doing wrong. After Emily hooks up with her best friend's boyfriend and Chase's secret harassment of a social outcast spirals out of control, three mysterious Furies—paranormal creatures that often assume the form of beautiful female cousins—come to town to make sure that Emily and Chase get what they deserve. Not everyone will survive—and those who do will discover there are worse punishments than death. But when Emily befriends outcast Drea and learns more about who and what the Furies really are, she becomes resolved above all to take them down and stop their plans. Little does Emily know, by confronting the Furies, she could become inextricably bound to them for life.
I first heard of this book a long while back before it was even listed on goodreads, from one of my favorite authors
ever
, Lauren Oliver. If you know me, you know that I fangirl for anything and everything Lauren writes, so if she recommends something, you can bet I will be all over it. And not only does it have Oliver's seal of approval, but it does sound pretty darn great AND original--I mean, the main character hooks up with her best friend's boyfriend? Definitely not the perfect goody two-shoes I'm used to. Plus, that cover? Fierce.
Fury will be released September 6, 2011, by Simon Pulse and I've already got it pre-ordered.