So, July is nearly over and I can't believe how fast this summer is flying by. NOT FAIR!
And
just how behind I am with this blog. Apart of me knows I needed the time away to rest, get an actual social life, yada yada yada, but my other stern half is scolding myself for not sticking with the pace. Though, if I
have
to give you an excuse, I blame Mr. Potter. Yep,
The
Mr. Potter
.
This summer was a big one for me. Not only was the movie franchise that I've grown up with ending (which was the last bit of freshness we had left of the book series), but I'm also turning THE BIG 2-0 in a matter of days. Talk about frightening. So call it cowardly and/or ridiculous, but I decided to spend the past two months burying myself in nostalgia of my teen years all the way back to my childhood. Of course rereading the entire Harry Potter series was at the top of the list, which I must say, is what got me behind on all 200 books in TBR pile. (Yikes- that number looks even worse typed out than it sounded in my head...)
ANYWAY, despite my online absence, I wasn't completely out of the loop on all things bookish. If you follow me on twitter, you've most likely seen more OHHing/AHHing/WTFFFing (among other things) than you'd like, but just in case you didn't, I'm going to recap the most important.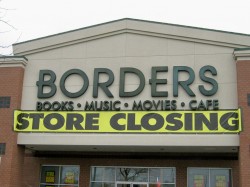 5. Borders Closing
Even though I wasn't a regular Borders customer, this store's closing makes me wonder how it'll effect readers/authors/publishers/anyone else in the publishing business everywhere. Not to mention their former employees who are now jobless. Sad! :(
4. The Austin Teen Book Festival
On to some happier news... If you live anywhere near Austin, TX, October 1st is the date to mark on your calendar. I was unable to attend last year's Teen Book Fest, but I'm over it now that I've seen this year's line-up. I'm talkin' Scott Westerfeld, Maureen Johnson, Stephanie Perkins, David Levithan, Andrea Cremer, Jenny Han, Simone Elkeles AND MANY MORE! Seriously, you guys, I don't think I need to tell you that I'm going to be one big ole' giant fangirl that day.
3. Spell Bound cover
Rachel Hawkins's Hex Hall series is one of my all-time faves, and when this cover was revealed.... well, as expected, I squealed like a little schoolgirl. This story is not only one of the best in this genre, but each of these covers are exceptionally well done (imho). LoveloveLOVE the colors on this one and I cannot wait to read it. TEAM ARCHER 4EVA!!!
2. MY CHILDHOOD IS DEAD aka Harry Potter is over
Like many others I'm sure, I found myself walking out of the theater at 2:25 am thinking,
WHAT NOW???
This was such an iconic (whether you like the books or not) series/franchise/fandom/etc. and I'm honestly just grateful to have experienced it all. RIP. :'(
P.S. Oh, and I loved the movie. There were many tears, as predicted.
1. Pandemonium cover AND synopsis (askjdhkjshfksdjghkseg!!!!!!!!!)
First off, the cover. Do I like? Yes. It's pretty and I'm glad I now have something fresh to look at when I stalk its Goodreads page everyday. Now, the summary. UM... Well, let's just say I had A LOT of feelings while reading those few paragraphs. Then I saw
Lauren's response
to readers' responses to it. And then I laughed.
Not to be rude, but I would never (EVER!) write to an author complaining about where it SOUNDS like their story is going. And you know what? I LOVE Alex as much as the next person. In fact, even more than you. I've only declared him my Ultimate (unfortunately)Fictional Husband Of All Time. And I don't throw that title around lightly. But in all seriousness, if you love the story so much, have some faith in the one who created it. And calm down. Oh, and wait until you've
actually read the book
to start having a fangirl anxiety attack. (I know, I might have to start taking my own advice... but at least I don't psychoemail authors! (...yet.))
So there ya have it!
What bookish news excited YOU most this summer/lately?