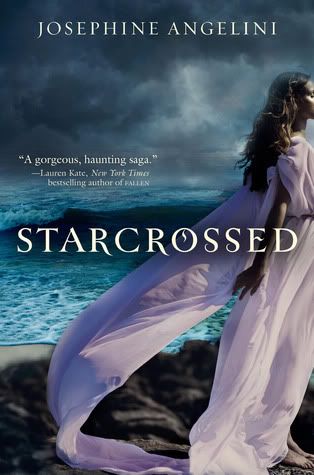 Starcrossed
by Josephine Angelini
How do you defy destiny?
Helen Hamilton has spent her entire sixteen years trying to hide how different she is—no easy task on an island as small and sheltered as Nantucket. And it's getting harder. Nightmares of a desperate desert journey have Helen waking parched, only to find her sheets damaged by dirt and dust. At school she's haunted by hallucinations of three women weeping tears of blood . . . and when Helen first crosses paths with Lucas Delos, she has no way of knowing they're destined to play the leading roles in a tragedy the Fates insist on repeating throughout history.
As Helen unlocks the secrets of her ancestry, she realizes that some myths are more than just legend. But even demigod powers might not be enough to defy the forces that are both drawing her and Lucas together—and trying to tear them apart.
Before you read any further I just want to say up front that I'm not at all very well read on mythology. My school was kind of a fail and instead of teaching us any cool, epic Greek myths, the little I know of Hercules is all thanks to Disney (I know, because Disney is totally legit). So, if you're a mythology freak, just a heads up that I'm not going to compare/contrast Angelini's modern day version of Troy with the original. I'm simply going to let you know what I liked about it. If you're cool with that, feel free to make meh happy and read on...
So, upon first glance (or um, skim) this might seem like another version of Twilight, I'll admit. You've got:
The main character, who lives in a teeny tiny town (or in this case, island) and is awkward & shy and just can't fit in with her peers no matter how hard she tries. Oh, and she also doesn't realize how Ooo-la-la-beautiful she is. (Don't we all wish we had that problem!)

An extraordinary, otherworldly, ~mysterious family that moves into town. All of which are super hot. (Of course.)

Each one of the ~mysterious family members is quirky, fun, and super-duper-i-can-kill-you-like-it's-nothing strong. Oh, and did I mention totally hot?

The main character and love interest hate each other at first glance. (Seriously. From the moment these crazies lock eyes.)

Of course they won't hate each other for long (because where's the romance in that??).
Ok, I'll stop there now that I kind of realize that it totally sounds like I'm mocking this book, and I swear I'm not. Like I said, if you look at the generic version of the story (above) and decide it isn't for you... Well, you'll be missing out.
Lately I've been hanging on to the whole Paranormal Romance bandwagon (and by hanging, I mean it- by my fingertips, body totally dragging (...can you tell I like being melodramatic?)). Thankfully with
Starcrossed
, Josephine Angelini managed to create an unputdownable (seriously, I dare you to put it down) Paranormal/Mythological romance that so many others can't.
Angelini has set up a dramatic, action-packed love story that will have everyone excited to see where it will all go, even if we all know how it will undoubtedly end.
Starcrossed
is the start to what I predict will be an OMG-WTF-AHH trilogy. So with that said, you can all sigh in relief once you've turned the last page and realized that IT WAS THE LAST PAGE. (
Let's just say the wait for book two will be a long one...)
Starcrossed
is in stores now. Definitely pick it up if you're looking for another hit from HarperTeen!